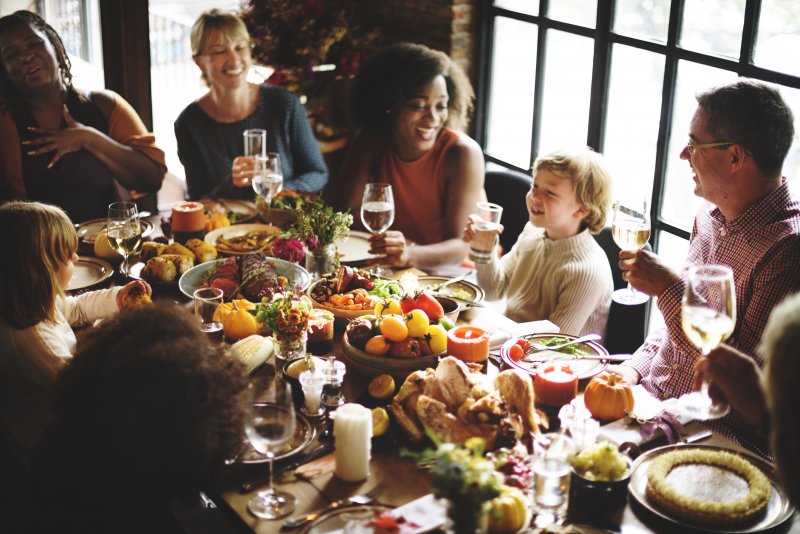 During the holiday season, your teeth are probably the last things you're thinking about. Seeing as they help you savor your favorite holiday foods and talk up a storm with relatives you haven't seen since last Thanksgiving, take the time to thank them for everything they do by keeping them healthy and bright. To help you show your smile how much you care, check out these four holiday oral health tips.
Tip #1: Brush and Floss
The busyness of the holiday season makes it easy to shy away from your usual oral health routines, like brushing and flossing before bed. It's never a good idea to skip either of these, but the increased amounts of sweet treats we eat during the holidays puts our smiles at an even higher risk than usual of developing cavities. Make sure to brush at least twice per day for two minutes to remove plaque buildup, and floss at least once per day to remove food particles stuck in between your teeth. Consider keeping dental floss in your purse or pocket so you'll always have it on hand.
Tip #2: Skip Sugary and Sticky Foods
Though they're tasty, sticky and sweet foods can do a lot of damage to your teeth. The stickiness makes them hard to wash away, and the sweetness gives harmful oral bacteria ample opportunities to feed off them and ultimately eat through your tooth enamel. If you can't fend off your sweet tooth, choose a piece of dark chocolate or sugar-free candy instead. These are easier to wash away, and sugar-free gum even increases saliva production to help keep your mouth well moisturized. If you slip up and eat some sweets, brush your teeth afterward to scrub away any sugar that was left behind. Some of the foods you should avoid include:
Taffy
Caramel apples
Hard candy
Cranberry sauce
Apple pie
Marshmallows
Candy Canes
Tip #3: Eat Protein
Comfort foods like stuffing and dinner rolls are delicious and go great with Thanksgiving dinner, but starchy and carb-heavy foods such as these feed bacteria that can eat away at your tooth enamel. It's better to skip these foods and fill up on turkey and protein-heavy vegetables like peas, asparagus, Brussels sprouts, and broccoli.
Tip #4: Hydrate
A glass of wine may go well with Thanksgiving dinner, but alcohol can weaken your tooth enamel, dry out your mouth, stain your teeth, and compromise existing dental work. Drink water instead to keep your mouth from drying out and wash away food and bacteria left in the mouth.
The holidays are a great time to catch up with family and friends, but being overly indulgent when it comes to Thanksgiving delicacies can seriously harm your teeth. By following the above tips and snacking in moderation, you can show your appreciation to your teeth for everything they do and make sure they exit the holiday season looking as healthy as ever!
About the Practice
If you've been searching for a kind, compassionate dental practice in the Soldotna area, look no further than Dr. Craig O'Donoghue and his talented team at Soldotna Dental Arts. From new patients to returning ones, they provide the whole family with the dental care they need to achieve lovely, luminous smiles they'll be excited to show off to the world! Visit their website or call them at (907) 420-3938 to schedule an appointment or for more information on how to keep your teeth healthy this holiday season.