Implant Dentures – Soldotna, AK
Permanent Teeth, Longer-Lasting Smiles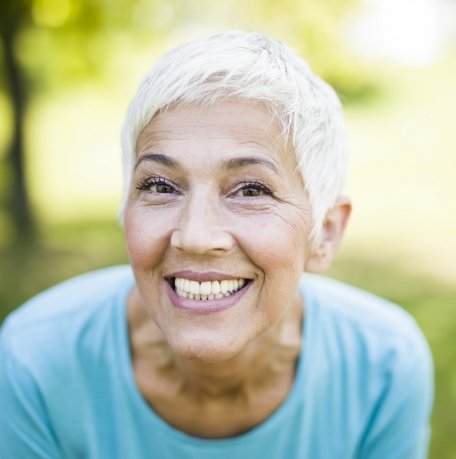 If you have suffered extensive tooth loss, you may face many daily inconveniences, and you might be embarrassed by your incomplete smile. While traditional dentures can look quite natural and restore your ability to eat most foods, Dr. Christensen may recommend that you opt for implant dentures in Soldotna, AK instead. They offer a comprehensive solution to tooth loss that can provide you with a strong bite, remarkable aesthetics, and many other benefits.
Why Choose Soldotna Dental Arts for Implant Dentures?
Start-to-Finish Treatment Provided In-Office
Qualified & Expertly Trained Dentist
State-of-the-Art CT Scanner for Optimal Precision
How Do Implant Dentures Work?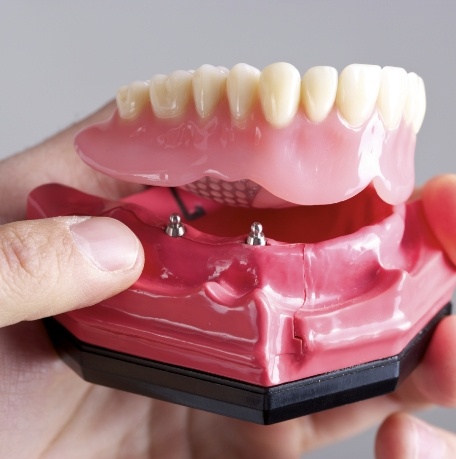 Just like regular dentures, implant-retained prosthetics are custom-made false teeth that are designed to work with your unique oral structures. However, while traditional dentures rely on natural suction or a mild adhesive to stay in place, implant-retained dentures are anchored in the jawbone via small titanium posts — dental implants.
There are essentially two types of implant-retained dentures. One type is permanently attached to the implants; it can only be removed by a professional. The other type is known as an overdenture. It has small attachments on the bottom that allow it to easily snap onto the implants. In some cases, a traditional denture can be retrofitted to work as an overdenture.
Am I a Candidate for Implant Dentures?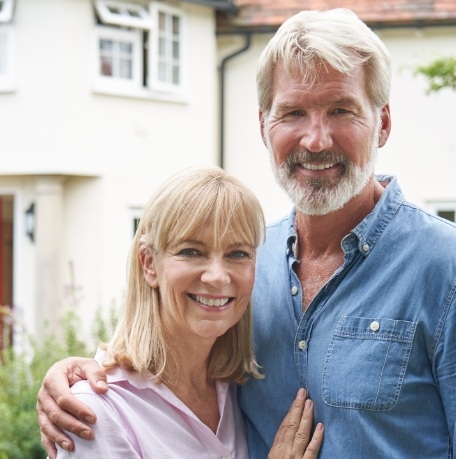 The best way to find out whether you are a candidate for implant-retained dentures is to schedule a consultation with Dr. Christensen. After he examines your mouth and jaw and talks to you about your goals and lifestyle, he'll recommend a tooth replacement solution that best fits your circumstances.
Ideal candidates for implant-retained dentures:
Have lost all or most of their teeth throughout an arch
Have a jawbone that is thick enough and tall enough to support dental implants
Do not smoke
Are committed to maintaining excellent oral hygiene
Are free of gum disease and other health concerns that could jeopardize the implants' success
The Implant Dentures Procedure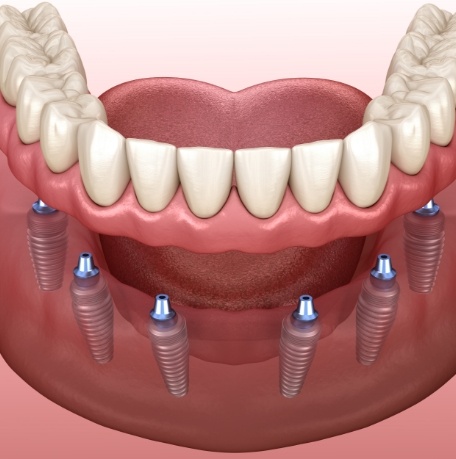 If Dr. Christensen determines that you are a good candidate for implant-retained dentures, he'll plan your implant placement surgery. During the procedure, he'll place several implants (perhaps 6 – 8) throughout your jawbone at strategic locations. Then, he'll close the gums over the implants. As you heal from your surgery, the implants will bond with the bone around them, a process that enables them to act as substitute tooth roots.
A few months after your surgery, Dr. Christensen will put his skills as a cosmetic dentist in Soldotna to work to design your permanent prosthesis. He'll make sure it fits perfectly and provides you with an attractive smile. Once the denture is attached to your implants, you can go off and enjoy all the benefits of a strong, complete set of teeth!
Benefits of Combining Dentures and Dental Implants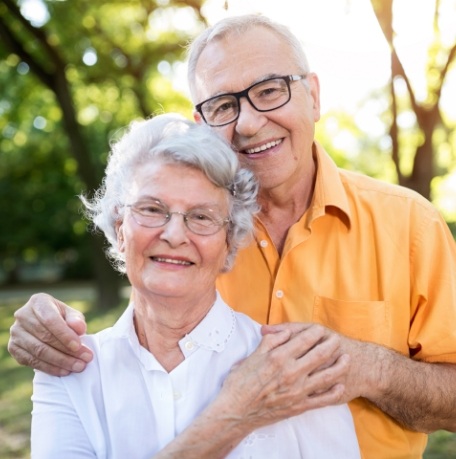 Here are just a few of the benefits you can expect to gain from your implant-retained dentures:
Dental implants provide a bite force that is almost as strong as that of natural teeth.
You won't have to worry about your teeth clicking, popping, or slipping while you're eating or speaking.
Caring for an implant-retained denture is easy, whether it is removable or permanently fixed in your mouth.
Your denture will look and feel completely natural; onlookers may have no idea that your teeth aren't the same ones you've had since your youth.