Dental Crowns – Soldotna, AK
Reliable Dental Restorations That Repair Your Smile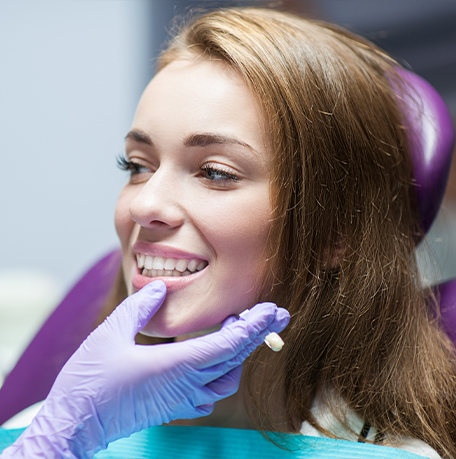 At Soldotna Dental Arts, our dentistry team is here to deliver beautiful dental restorations that not only offer maximum protection but also look natural and seamless when placed. When decay or damage keeps you from feeling and looking your best, our dental crowns in Soldotna, AK can provide the high level of care you need. Call us today to schedule an appointment to learn how you can take advantage of our durable and lifelike dental crowns.
Why Choose Soldotna Dental Arts for Dental Crowns?
Treatment Personalized for Every Patient
Highly Experienced Dentist
Seamlessly Heal Tooth Decay
What is a Dental Crown?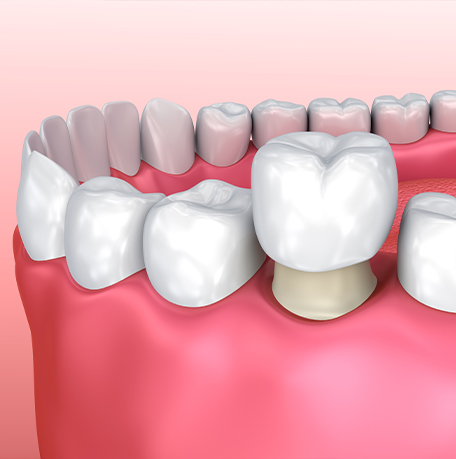 A dental crown is a customized restoration that fits over the visible portion of a tooth that is damaged or decayed. Also referred to as a "cap," it is created to serve as a protective seal around the base of the tooth so that bad oral bacteria will be unable to penetrate and reinfect the tooth. A dental crown also serves to help strengthen the vulnerable tooth underneath.
Dentists often require dental crowns for patients who:
Recently underwent a root canal or dental implant placement
Have severe dental decay or facial trauma that is impacting the function of the tooth
Have a filling that has expanded and is now causing damage to the tooth
Need to secure their dental bridge
Want to conceal uneven or misshapen teeth
The Dental Crown Process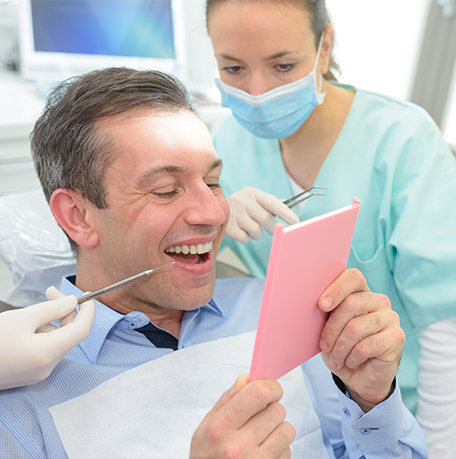 To place a dental crown, your dentist in Soldotna will first need to prep the tooth by clearing out any decayed areas. Once this is complete, the tooth is filled with composite resin before being filed down. Our team will then impressions of your tooth before sending it off to lab technicians who will create a customized dental crown for your smile.
Before leaving your first appointment, you'll be fitted with a temporary crown that you will wear in-between visits. This will protect your tooth while your permanent one is created. Within a few weeks, you will return for your second appointment to have your temporary removed and your finalized crown bonded into place.
The Benefits of Getting a Dental Crown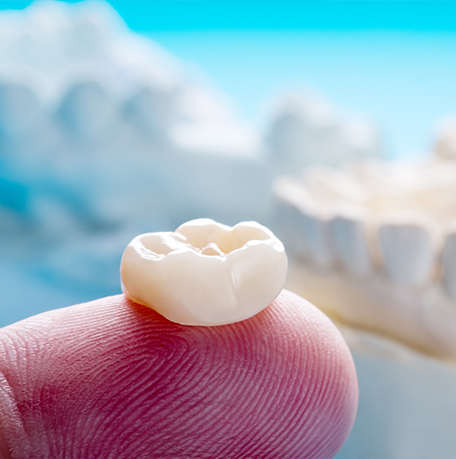 There are many benefits that come with receiving a dental crown, some of which include:
The ability to embrace better oral health
Greater protection for your vulnerable tooth
Reduced risk of reinfection or further damage
A durable restoration that can remain in place for 10-15 years with proper care and maintenance
A natural-looking restoration that blends in beautifully with your existing smile
Improved functionality when eating, speaking, or smiling
Understanding the Cost of Dental Crowns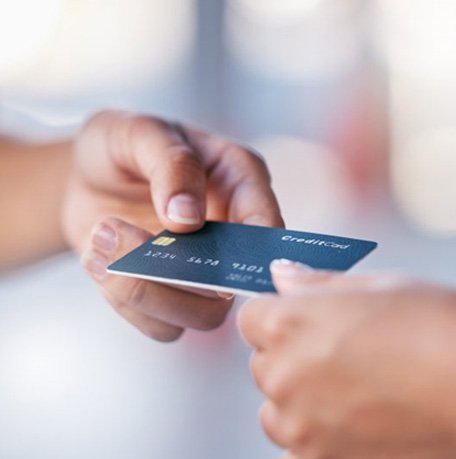 If you're struggling with a decayed, damaged, or otherwise compromised tooth, the last thing you'd want is for the situation to become worse. By getting a dental crown, you'll be able to save and protect your tooth from future harm and other potential complications. That said, it's also important to understand the overall price of your restorations, as you won't want any surprises when it comes time to pay the bill. Our team will be sure to discuss your treatment plan in detail and provide a more precise estimate of how much you'll pay for the procedure. Until you can see us, here's what you should know about the cost of dental crowns in Soldotna.
Factors That Affect the Cost of Dental Crowns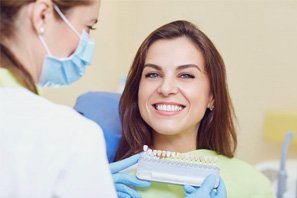 The overall price of your dental crowns can be influenced by several factors, including:
The severity of the damage: If you're experiencing more serious issues, such as an infection or abscess, then we might need to perform preliminary services like root canal therapy, which can add to the cost of your treatment.
The number of teeth: Needing to address multiple compromised teeth can add to the initial value compared to only repairing one tooth.
The materials used: The kind of materials your dental crown will be constructed from, such as amalgam or porcelain, can influence the overall price. Our team uses porcelain for its durability, longevity, and natural-looking results.
Does Dental Insurance Cover Dental Crowns?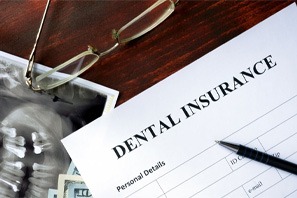 Most dental insurance providers will offer coverage for dental crowns, as these restorations are typically considered to be essential for restorative care. In many cases, you might expect around 50% of the total price to be covered, especially if it's necessary to preserve your oral health. However, there could be limitations in place before your benefits kick in, such as a deductible. Every policy is different, so you'll need to verify the details of your plan with your company before moving forward. Our team can also help make this process smoother for you if you need help.
Options for Making Dental Crowns Affordable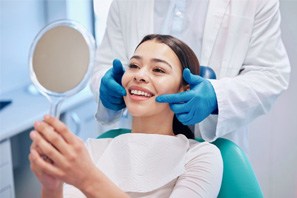 Even if you're without dental insurance at the moment, you won't automatically have to pay the entire sum of your treatment right away. You can explore alternative financing options, such as CareCredit, to help make your procedure fit with your budget. With this third-party financier, you can break up your treatment cost into monthly low-to-no-interest installments. This means you'll be able to afford the necessary care for your smile without having to empty your wallet!
Dental Crown FAQs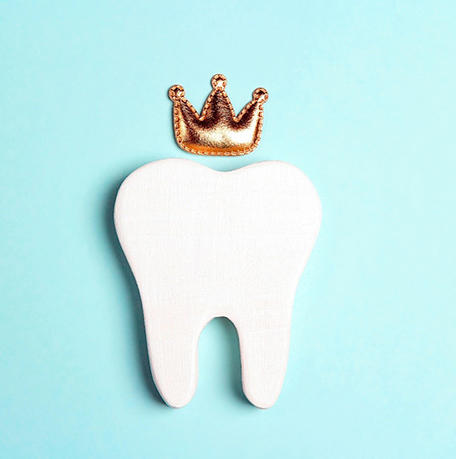 We understand that having a damaged, decayed, or otherwise compromised tooth can lead to a bit of stress and confusion, especially when you're trying to figure out an ideal course of action. You should know that dental crowns in Soldotna are often one of the best possible solutions for these situations! Our team has gathered a few of the most frequently asked questions that we receive about dental crowns so that you can feel comfortable about committing to treatment and saving your smile. Of course, if you have any other questions about dental crowns or would like to schedule an appointment, don't hesitate to contact us today!
Does It Hurt to Get a Dental Crown?
When you sit down in the chair to receive a dental crown, the first thing that happens is your dentist will numb your mouth—meaning you won't feel any pain at all during the procedure. Sedation treatment options are typically also available for patients who are anxious about dental work. You might experience some sensitivity for the first few days after receiving your crown, especially if you've undergone root canal therapy. Taking over-the-counter pain relievers can often alleviate this discomfort but don't hesitate to contact your dentist if things seem to worsen.
Do Dental Crowns Get Cavities?
You should be happy to hear that a dental crown itself cannot develop a cavity; however, the underlying tooth is still at risk. In fact, research shows that a crowned tooth has about the same risk of decay as an uncrowned tooth! If you can't maintain good oral health, bacteria and plaque can easily accumulate around the gumline where your tooth meets its crown, where it will slip under it and target the vulnerable tooth. If you stay on top of your oral hygiene by brushing, flossing, using a mouth rinse, and routinely visiting your dentist, you're chances of developing cavities are astronomically lowered.
Can Dental Crowns Be Whitened?
Unfortunately, dental crowns cannot be whitened like your natural teeth can, no matter what material they're made from. Tooth enamel has tiny pores which allow bleaching gels to enter and break apart stains; however, dental restorations like crowns don't have these pores. That said, metal-free crowns made of materials such as porcelain are designed to blend in seamlessly with your smile, meaning that if you practice excellent oral hygiene after receiving one, the natural teeth that surround your crown should retain their whiteness.
How Do You Know When a Dental Crown Needs to Be Replaced?
Dental crowns aren't meant to last forever, often enduring anywhere from 5 to 15 years or so, and there are a few particular warning signs that you should watch for, so you know when you need to have the crown replaced. Here are four signs that indicate a crown might be nearing the end of its lifespan:
Pain – If a cavity has developed within the crowned tooth, it can cause quite a bit of pain and necessitates prompt treatment. Once the cavity has been filled, the crown will be evaluated for either reattachment or replacement.
Looseness – If your crown feels loose or unstable in any way, especially when you're biting or chewing, you should contact us as it likely needs to be reseated.
Worsened appearance – A chip, crack, or stained crown can affect your smile's beauty and in turn, your appearance—this is reason enough to have it replaced, in addition to its functionality being brought into question.
Dark line at the base – This usually indicates the crown has gone through a great deal of wear and tear, and it'll likely need to be replaced soon.