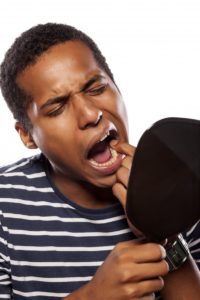 During the early years of childhood, having a loose tooth is something that is celebrated. It represents a developmental milestone that is almost like a rite of passage. For adults, the situation is the complete opposite. A loose tooth means that you have a dental emergency on your hands. Until you can visit a dentist, what steps should you take on your own? Continue reading to find out.
Responding to a Loose Tooth
The moment you notice a tooth is loose, you should reach out to a local dentist to request an emergency appointment. Then, you can take the following steps to stabilize the situation:
Keep the Tooth in Place
You should avoid touching the tooth with your fingers or tongue in an attempt to straighten it. It's also not a good idea to use any kind of temporary dental splint. Doing so can only make matters worse.
In fact, attempting to pull, support or otherwise make alterations could lead to a painful infection. Thus, the primary focus should be to preserve the tooth in its current state and receive emergency dental care as soon as possible.
Avoid Sticky, Chewy or Hard Foods
Foods that require extra effort to chew can be a nightmare for a loose tooth. In addition to avoiding sticky, chewy or hard foods, you'll want to use the other side of your mouth to prevent any further damage. You may even consider sipping a smoothie to limit the chance of the tooth completely dislodging.
Safely Keeping the Tooth Clean
When a tooth is loose, it can be more susceptible to bacteria growth. However, brushing and flossing could cause the tooth to completely dislodge. One way to temporarily clean your mouth is to rinse with a warm, saltwater solution.
The Emergency Dental Visit
After taking the necessary precautions, you'll still need to get in for an emergency dentist. Some practices offer same-day visits, which means you won't have to worry about enduring any pain and risking the chance of the tooth falling out.
If it's your first visit, take a look at the practice's website to get an idea of how their new patient intake process works. You may find patient forms, dental insurance information, financing options and other key details that will help speed up the process when you arrive at the office.
Having a loose tooth is not the end of the world. By taking the right initial steps and receiving the expert care of a dentist, you can get to the bottom of the problem and have your oral health restored.
About the Author
Dr. Craig O'Donoghue earned his dental degree from the University of Iowa. He is also a graduate of the prestigious Las Vegas Institute. Additionally, Dr. O'Donoghue has completed over 2,000 hours of continuing education, which includes advanced training in oral surgery. He provides emergency dental care at Soldotna Dental Arts, and he can be reached for more information or to schedule a visit through his website.