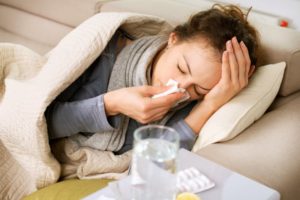 At this time, businesses all over the country must follow new restrictions as a result of the COVID-19 pandemic. The virus has caused many people to stay home and business owners to temporarily close their stores, especially if they cannot perform business without following these new sanitation protocols. Dental practices are also feeling the effects of the pandemic, remaining closed only for dental emergencies, seeing patients one at a time, and performing even more strict sanitization efforts to reduce the spread of the virus. To learn all the details you need to know regarding COVID-19 and emergency dental visits during quarantine, keep reading!
What are the Signs and Symptoms of COVID-19?
At this time, those infected with COVID-19 have reported a wide range of symptoms. Furthermore, these symptoms can appear anywhere between 2 and 14 days after exposure to the virus, according to the Centers for Disease Control and Prevention. If you notice any of the following signs, make sure to self-isolate as much as possible. They include:
Cough
Shortness of breath or difficulty breathing
Fever
Chills
Repeated shaking with chills
Muscle pain
Headaches
Sore throat
New loss of taste or smell
If you experience any of the following, seek medical attention immediately:
Trouble breathing
Persistent pain or pressure in the chest
New confusion or inability to arouse
Bluish lips or face
How to Ensure Your Own Safety
Since there is currently no vaccine to prevent the spread of COVID-19, it's very important to practice daily tasks designed to avoid being exposed to the virus. To protect yourself and your family, make sure to:
Wash your hands often for at least 20 seconds using soap and water.
Make sure to sanitize your hands after being in a public place, blowing your nose, coughing or sneezing.
Use hand sanitizer containing at least 60 percent or more of alcohol.
Avoid touching your eyes, nose and mouth with unwashed hands.
Stay at home as much as possible.
Wear a cloth face mask whenever running essential errands, such as grocery shopping.
Maintain a distance of six feet from those around you when in public.
Always cover your mouth when coughing or sneezing. Use a tissue when available. If tissues are not nearby, cough or sneeze into your elbow.
Make time to regularly disinfect all commonly touched areas in your home.
Are You Experiencing a True Dental Emergency?
While dental offices are largely open for dental emergencies, it can be difficult to know when a dental emergency is actually occurring. True dental emergencies include:
Severe dental inflammation
Pain in the third molars
Dry socket
Oral infections resulting in pain and swelling
Broken teeth resulting in pain or damage to soft tissue
Knocked-out teeth
If you are in doubt of whether or not you are experiencing a dental emergency, call your emergency dentist for guidance!
About the Author
Dr. Craig O' Donoghue is more than prepared to treat dental emergencies in a safe and sanitized environment should any of his patients need care. If you're not sure if you're experiencing a dental emergency and need to come in for examination, please call his office directly and his team will help you every step of the way. To report a dental emergency, you can contact him through his website.