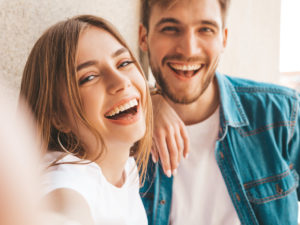 The most romantic day of the year is right around the corner! While you may be running around buying gifts and making dinner reservations, do not forget to show your teeth some love this Valentine's Day as well. A beautiful, healthy smile is sure to be a hit with your new date or long-time significant other. Want to know how to keep your oral health in mind during this annual day of love? Here are 3 helpful tips from a Soldotna dentist.
Beat Bad Breath
Nothing can ruin a romantic mood like bad breath, so you may want to avoid eating meals on Valentine's Day that contain foods with strong, pungent odors such as garlic or red onions. Pro tip: keep floss in your pocket or purse so you can quickly get rid of any food particles that get stuck in between your teeth during your meal. Before heading back out to the table from the bathroom, pop a mint in your mouth to give your smile a fresh feeling and scent. If your breath still smells bad even after sucking on a mint or even after brushing your teeth, that could spell serious trouble. Persistent bad breath is a common sign of gum disease, so you should reach out to your dentist very soon.
Indulge Wisely
Sugary sweets are always popular gifts on Valentine's Day. However, if you are considering what candy or chocolate to buy your sweetheart, here are a few tips for you:
Avoid sticky candies like suckers or gummy bears, as they allow sugar to stick to teeth for a longer amount of time. They also tend to be more acidic, which can help wear down tooth enamel.
Avoid chocolate with chewy centers of caramel or cream. Again, you do not want to give your significant other's teeth a sugar bath!
DO opt for solid chocolate that has more than 50% or more cacao, as this variety is purer and less likely to contain additives that can harm teeth.
Visit a Dentist in Soldotna
Before Valentine's Day arrives, it's a good idea to visit a dentist in Soldotna for a routine checkup and cleaning. Having your teeth cleaned by a dental professional is the only way to remove hardened tartar and will leave your mouth feeling clean and refreshed. In addition, your dentist will evaluate your teeth and gums for any signs of cavities, gum disease and other serious oral health issues.
If your dentist gives you a clean bill of health, you will be able to meet your date with the added confidence of knowing that your smile is in tip-top shape!
Don't wait until the last minute to show your smile some love before this Valentine's Day. Follow the tips above and contact your dentist in Soldotna today.
About the Author
Dr. Craig O'Donoghue has nearly 20 years of experience providing quality dental care to those in need. An active member of the Academy of General Dentistry, he has completed over 2,000 hours of continuing education! Patients old and new can get more oral care tips by visiting the Soldotna Dental Arts website or by calling Dr. O'Donoghue at 907-420-3938.