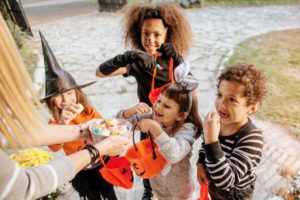 Everyone knows that eating a lot of sugar can easily lead to cavities and other oral health problems, and Halloween is a particularly dangerous time of year when it comes to dental damage. Luckily, there's no need to stop your child from joining in on the fun; by following these 5 tips from a dentist, your family can enjoy trick-or-treating while still protecting their precious smiles.
1. Moderation is the Key
The main goal of your post-Halloween plan should be to control the rate that candy is being consumed in your house. Eating a lot of sugar at once is risky for your teeth; it's better to spread it out over a period of several weeks. Make sure your children understand that they shouldn't be snacking on their candy throughout the day.
2. Perform a Treat Screening
Take the time to sort through your child's Halloween candy and help them make tooth-friendly choices on what to keep. Chocolate is one of the better options since it leaves the mouth quickly, reducing the amount of time that the teeth are exposed to sugar. On the other hand, caramels and other sticky treats will stay attached to your pearly whites, increasing the risk of decay. Sour candies can pose additional dangers of their own; they're usually acidic and can weaken the tooth's enamel, leaving it vulnerable to damage.
Once you've decided what your child can keep, you can give the rest away to charity or locate a buyback program in your area.
3. Leave Treats for After Dinner
Saliva helps keep the mouth clean and plays a role in washing away sugar to minimize the potential damage to your teeth. You produce more saliva when you eat, meaning the best time to enjoy a sugary snack is right after a meal.
4. Give Your Child Plenty of Water
Of course, if you really want to keep your child's mouth as clean as possible, giving them a glass of water after they enjoy their candy. Fluoridated water will help provide extra cavity protection. Some kinds of bottled water will contain fluoride, but in general tap water is your best bet.
5. Make a Halloween Dental Appointment
Halloween is a good time to make a dental appointment if you want to reduce the risk of long-term issues. Your dentist can look for early signs of decay and take care of any existing issues so that you can make sure your child's smile is in good shape. Also, many dental practices will offer dental sealants to protect little ones that need extra cavity protection.
Of course, a dental emergency could still happen despite your best efforts, so if your child starts to complain about the pain in their tooth, you should schedule an appointment right away. That said, if you plan carefully and take initiative in controlling candy consumption, you can help your family have a happy yet healthy Halloween.
About the Author
Dr. Craig O'Donoghue is proud to be serving patients in the Soldotna community and helping them maintain beautiful grins. He has completed over 2000 hours of continuing education in various dental fields such as oral surgery and orthodontics. To schedule a checkup for your child and prepare their teeth for Halloween, schedule an appointment at his practice, Soldotna Dental Arts, by visiting his website or calling (907) 420-3938.